Samsung Exhibit 4G

T759 Hard Reset Procedures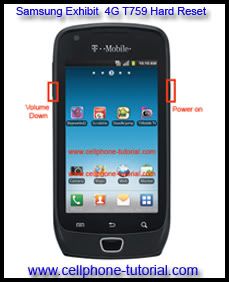 Samsung Exhibit 4G T759 Hard Reset Procedures
Disclaimer
: Performing the
hard reset
will erase / wipe all of your personal data, we highly recommended to backup all data and make sure the SD Card is unmounted.
Hard reset
needed if you have a problem with your phone, such as your phone running very slowly, infected by a virus, frozen or just want to restore to factory / fresh state.
Samsung Exhibit 4G T759 Hard Reset
Procedures
First Method
From dial pad type *2767*3855#
Second Method
Tap Settings, then Privacy
Tap Factory data reset
Tap Reset phone
Enter password if required, then tap Erase everything to confirm
Third Method
Power off phone
Press and Hold the Volume Down button
Press and release power on button
Now phone enter recovery mode
Move the selection to clear storage option by pressing volume down button
Press and release power on button
Press Volume Up button to Confirm or press volume down button to cancel.